Professional profile:
"Elegance is the only beauty that never fades".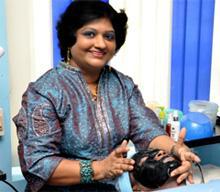 Mrs. G. Marina Rajappa
Advance Diploma in Beauty Therapy (City & Guild's London)
Advance Diploma in Hair dressing (City & Guild's London)
Mrs.G.Marina Rajappa graduated with B.com Degree, always interested in fine arts and crafts and enrolled herself at Kothari Academy for women in Chennai and successfully completed her Diploma in Cosmetology and Diploma in Interior decoration in 1987. This paved the way for the opening of Marina Beauty Parlor in 1988 which is functioning over 27 years. She constantly updates herself in her field and she has obtained many diplomas in Aroma Therapy, Mechanical Treatment, Ayurvedic massage, Panchakorma therapy, Advance Diploma in Mahendi. And also obtained distinction in Advance Diploma in Beauty therapy and Advance Diploma in Hair dressing therapy in from The Institution of city and Guilds of London.
Being a selfless person, she wanted to impart her knowledge to other deserving women. So for this purpose she has started the Marina Beauty Academy in 2009.
Through her many charitable endeavors, she has been a motivation to all her trainees and employees.
Merits
Excellent customer Service

Supreme Hair care

Relaxing Atmosphere

One on one Professional arena

A truly unique saloon Experience

Show you the way to a new
and rewarding career.